Congrats!
You have your Lumos Knitting Light.
Now what?
Congrats! You get what you were waiting for!
We hope you enjoy it for a very long time.
We all have lights that do different things but there is no one that can do it all. So, we have come up with Lumos Knitting Light, designed to suit your lifestyle, for you to get most out of your knitting experience. Lumos Knitting Light as a brand was created for those that seek something more while still caring to use less.
Now, let us show you some tips and tricks so that you get the most out of the Lumos Knitting Light.
Lets first give life to the glorious Lumos Knitting Light that will give life to countless projects in the future.
You can change the color of the light you are using.
Let's see how it is done.
You can change the brightness of the color as well!
It's a bit tricky. But let me tell you, you will really like that feature.
Now, we will talk about things that will extend the life of Lumos Knitting Light.
Alright, we talked about the light itself in detail.
How about some tips and tricks for how to use it while knitting and crocheting?
What else can you do with your light?
We exploit the Lumos Knitting Light for anything in our life. Let us show how it is done.
People seem very happy with it.
Here is what they send us!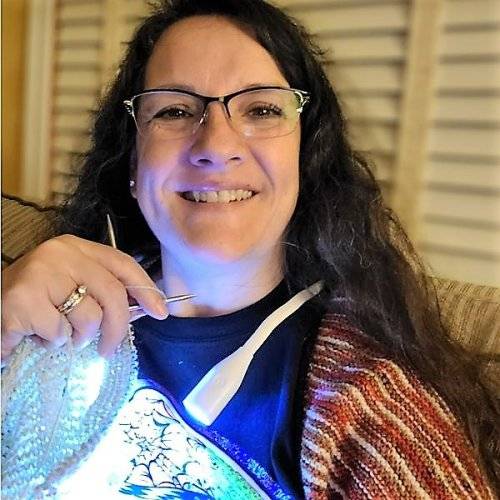 I am very happy with the Lumos knitting light. I have been using it for about 3 weeks. I am working with dark colored yarns and it lights up what I am working on beautifully. I love that it is charged by USB and not batteries.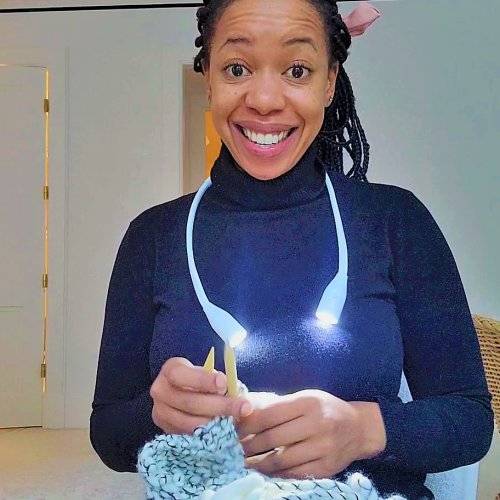 Yes, as advertised and glad I bought it. I have been using a very good overhead light for knitting but much prefer this as it does not shine in my eyes. Lasts for hours between charges, good light.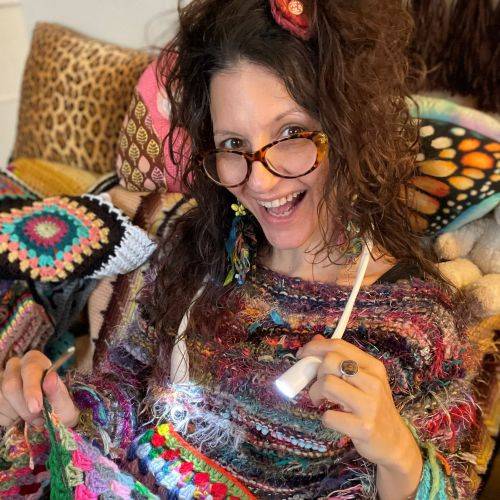 Let there be light ... on my stitches
it's perfect for knitting in low light because it concentrates the light exactly where you need it ... on your stitches. It's comfortable to wear, even in the warm weather.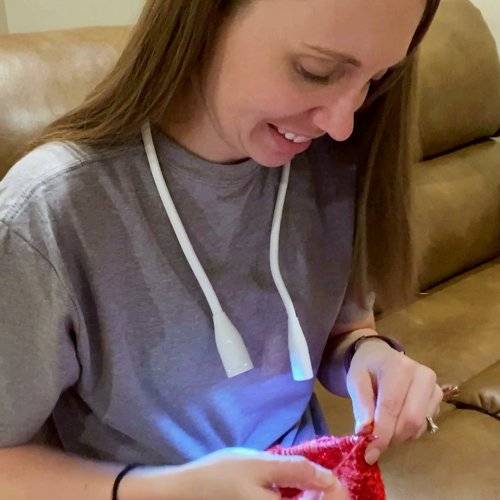 It really really works!!!
I purchased one for me and one for my husband as he does detailed work in his shop. I often work with fine yarn or multi strands and this light really reduces my eye strain and frustration. The battery life is amazing as well.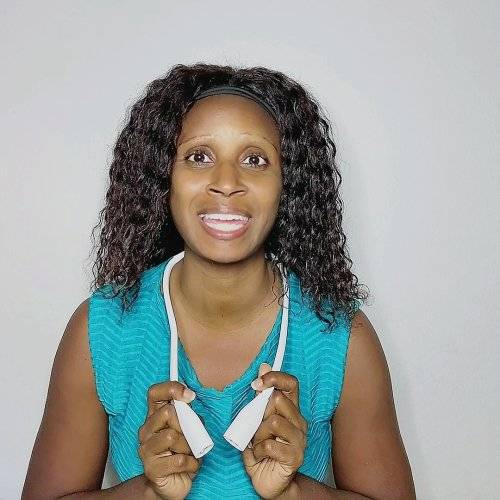 I can knit in the evening again
I love this product! I really appreciate choosing warm or cool light or both. The light weighs next to nothing and the ability to move the lamps in whatever direction needed makes this extremely valuable. Reading and stitching hours have now been extended :)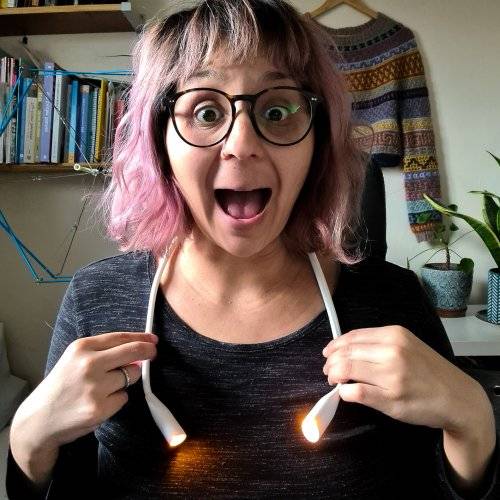 Easy to use, excellent light for knitting in low light conditions, and especially when using dark coloured yarns. As many others have mentioned, Meg, the customer service rep is outstanding! Thank you Meg.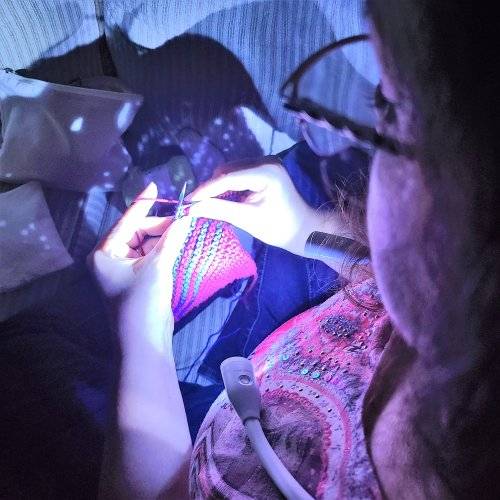 I see stitches in dark yarn better!
It's lightweight and so flexible, totally different from the other one. It came fully charged so haven't had to recharge it yet. I have been using it almost every day since it arrived. I will no longer shirk from using dark colored yarns. I am very happy with my purchase.
FOLLOW AND TAG US ON INSTAGRAM,
GET

A 30% dıscount code
!
Go to our Instagram page now, follow our profile. And then post a photo/video showing our product with you. That's it!
Email us and we will send your 30% off discount code right away!It's even better.
Follow and Tag us in a Post
Your friends will love it!